Muscle Recovery and Performance
3,000 mg / 45-Day Supply
Regular price
$55.00 USD
Sale price
$54.00 USD
Unit price
per
Sale
Sold out
Our Heart & Spleen supplement comes from 100% pasture-raised New Zealand cattle and is packed with vital nutrients and peptides to support your overall health, vitality and energy.
Heart & Spleen can be used independently but is formulated to perfectly complement our freeze-dried Beef Liver capsules. When taken together, the two supplements provide a wide range of micronutrient coverage.
Our 100% grass-fed, grass-finished Beef Heart & Spleen dietary supplement is gluten and GMO free and contains no fillers or flow agents.
View full details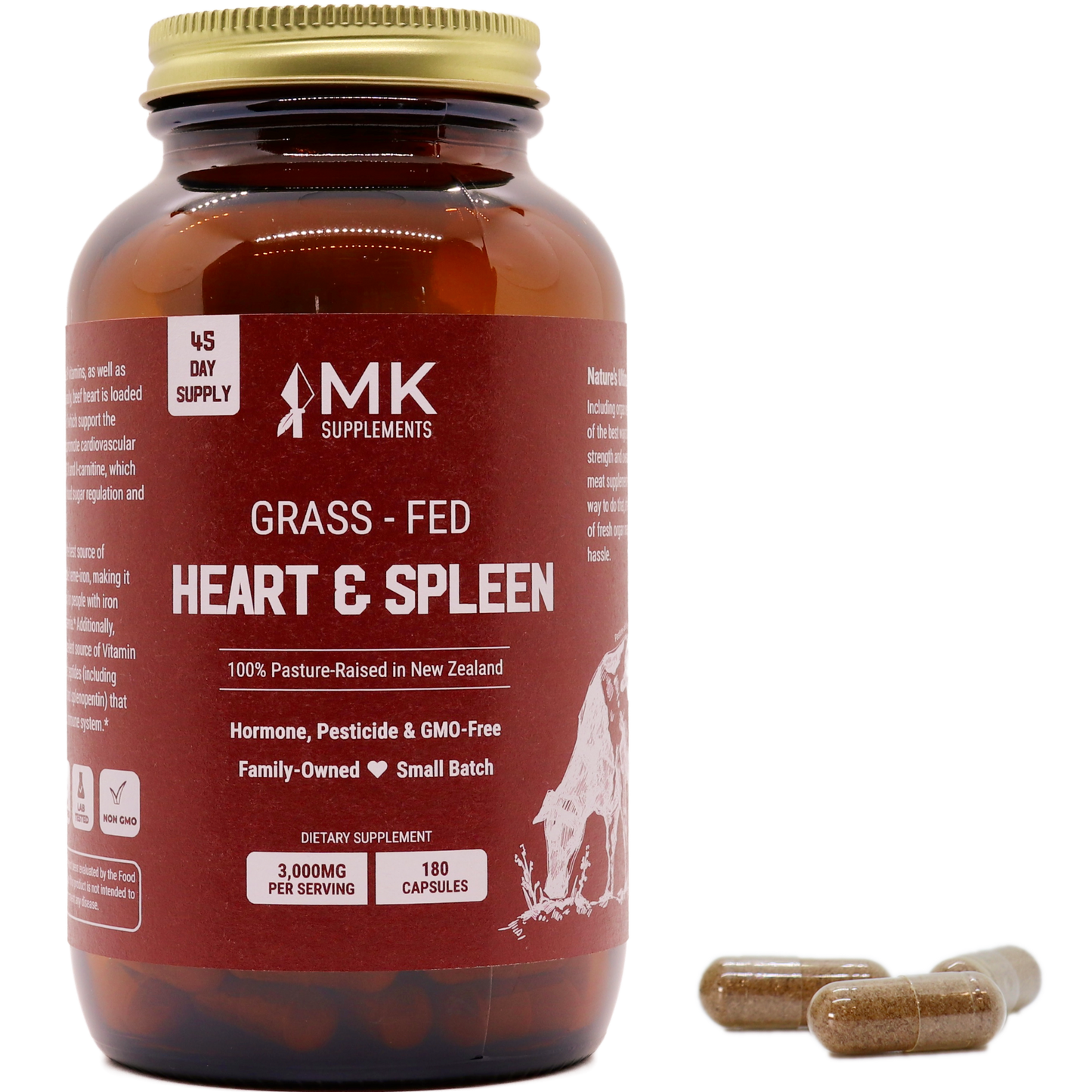 Beef heart is an excellent source of most B vitamins, as well as phosphorus, potassium and zinc. Additionally, beef heart is loaded with anserine, carnosine and taurine, all of which support the immune system, enhance blood flow and promote cardiovascular health.
Heart is also rich in coenzyme Q10 and l-carnitine, which improve energy, mitochondrial function, blood sugar regulation and insulin sensitivity.
Beef spleen is the best source of highly-absorbable heme-iron, making it the perfect food for people with iron deficiency or anemia.* Additionally, spleen is an excellent source of Vitamin C, selenium and peptides (including splenin, tuftsin and splenopentin) that help boost your immune system.
*This statement has not been evaluated by the Food and Drug Administration. This product is not intended to diagnose, treat, cure, or prevent any disease.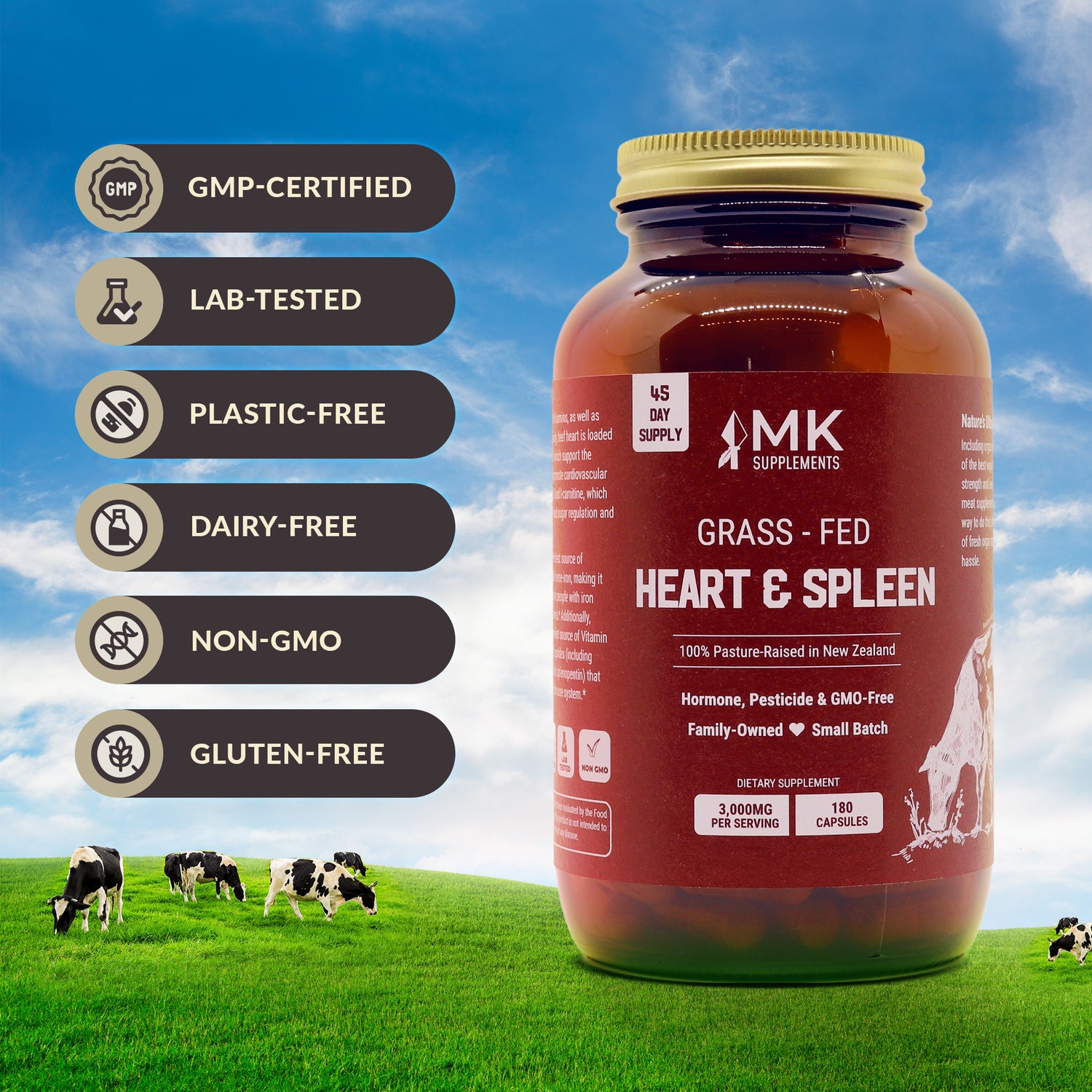 Why Beef Heart & Spleen
Heart and spleen are among the most nutrient-dense foods on the planet, and something our ancestors and early humans ate regularly for millions of years. 
MK Supplements' Grass-Fed Beef Heart & Spleen is from 100% pasture-raised New Zealand cattle. Unlike other manufacturers, we use a gentle freeze-drying method (instead of heat) to turn fresh organs into a powder before filling it into gelatin capsules.
Additionally, we don't use hexane or other harsh chemicals to defat our organ meats.
Instead, you get what we consider nature's ultimate multivitamin: a high-quality supplement that offers all the benefits of consuming fresh, grass-fed organ meat (without the strong taste).
Buy Now
How to Use Heart & Spleen Capsules
Instructions

Take four capsules per day, or up to eight capsules per day if you suffer from severe micronutrient deficiencies or have increased nutritional requirements (e.g., due to your active lifestyle). Children can take two capsules per day, depending on their weight. Consistent and long-term use produces the best results. Ask us if you need help determining the right dosage.

Benefits

Heart & Spleen is a foundational supplement for any diet or health status, helping to fill nutritional gaps and improve energy, mood, exercise performance, libido and more.

Dosage Matters!

We offer Heart & Speen and Grass-Fed Beef Liver as separate products (rather than combining them into a single capsule) to ensure that every dose contains a sufficient amount of organ meat. When taken together, these two supplements provide an ideal supply of the key nutrients that many Americans are deficient in, such as Vitamin A (retinol), Vitamin B12 and iron. 

Ingredients

All of our supplements are 100% free of additives, allergens, antibiotics, hormones, GMOs and pesticides. They're freeze-dried and non-defatted to provide pure nose-to-tail nourishment for you and your family.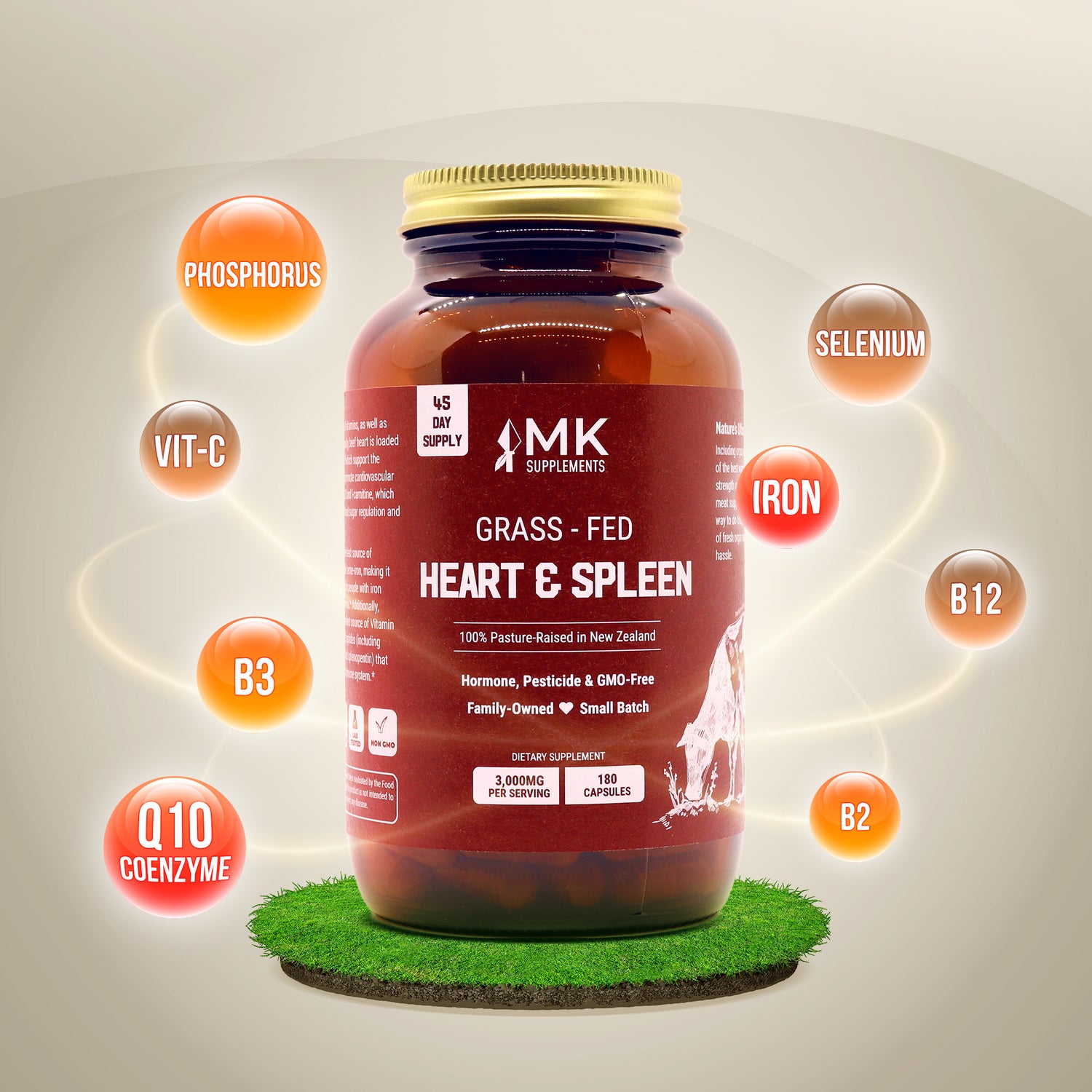 Nutrients in Heart & Spleen (Per Serving)
Jam-packed with valuable micronutrients like folate, heme-iron, riboflavin and Vitamin B12 (as well as many others), it's the perfect natural multivitamin.
Heart & Spleen's diverse micronutrient profile provides the building blocks for a wide range of bodily functions, supporting the metabolism, immune system, brain, reproductive organs, mental health and more. Plus, its synergistic combination of vitamins and minerals can naturally boost energy levels by supporting mitochondria (the part of every cell responsible for energy production).
Vitamins

Vitamin B1 (0.05 mg), Vitamin B2 (0.2 mg), Vitamin B3 (2.25 mg), Vitamin B5 (0.4 mg), Vitamin B6 (0.05 mg), Vitamin B7 (0.28 mcg), Vitamin B9 (0.95 mcg), Vitamin B12 (2 mcg), Vitamin C (6.65 mg), Vitamin E (0.05 mg).

Minerals

Calcium (2.25 mg), Copper (0.05 mg), Iron (6.85 mg), Magnesium (6.05 mg), Phosphorus (71.15 mg), Potassium (100.2 mg), Selenium (11.75 mcg), Zinc (0.55 mg).

Important Note

Many synthetic multivitamin supplements contain significantly higher concentrations of vitamins and minerals. That's because your body doesn't absorb most of those nutrients due to their poor bioavailability. However, the nutrients in freeze-dried organ meats are highly absorbable, so you don't need excessive amounts. Additionally, it's virtually impossible to overdose on nutrients from real-food sources. So don't worry about getting a little more Vitamin A or iron than your body may need.
The micronutrient contents listed above are based on data from the USDA and European Food Database for fresh beef heart and spleen. Freeze-drying results in a loss of 5% or less of nutrients, and the exact breakdown varies from lot to lot.
Benefits of Daily Use
Continuous use is crucial for obtaining the maximum benefits from this supplement. Sign up for a subscription to ensure you never run out of Heart & Spleen!
Metabolism, Mood and Energy

Heart & Spleen is an excellent source of Vitamin B12, copper, heme-iron, CoQ10 and niacin, all of which are crucial for energy, optimal exercise performance, metabolism and mood.

Brain Health and Cognition

The highly absorbable B vitamins (riboflavin, folate and B12), amino acids (anserine, carnosine, taurine and l-carnitine), choline and heme-iron in Heart & Spleen are vital for brain health and cognition as well as neurotransmitter formation.

Immune System

Spleen-specific peptides (splenin, tuftsin and splenopentin) and heme-iron are critical for optimal immune function. Selenium is a cofactor for the body's antioxidant defense (glutathione peroxidase, thioredoxin reductase).

Muscle Recovery

The amino acids found in Heart & Spleen speed up muscle recovery after intense exercise.

Thyroid Function

The selenium in Heart & Spleen plays an important role in thyroid function and is an integral component of iodothyronine deiodinases, an enzyme that regulates thyroid hormone levels.

Heart Health

The Dwarf Open Reading Frame Peptide (DWORF), B vitamins and amino acids in Heart & Spleen are crucial for optimal cardiac function and cardiovascular health.

Cellular Health

The B vitamins and choline found in Heart & Spleen are essential for red blood cell formation and proper cell division.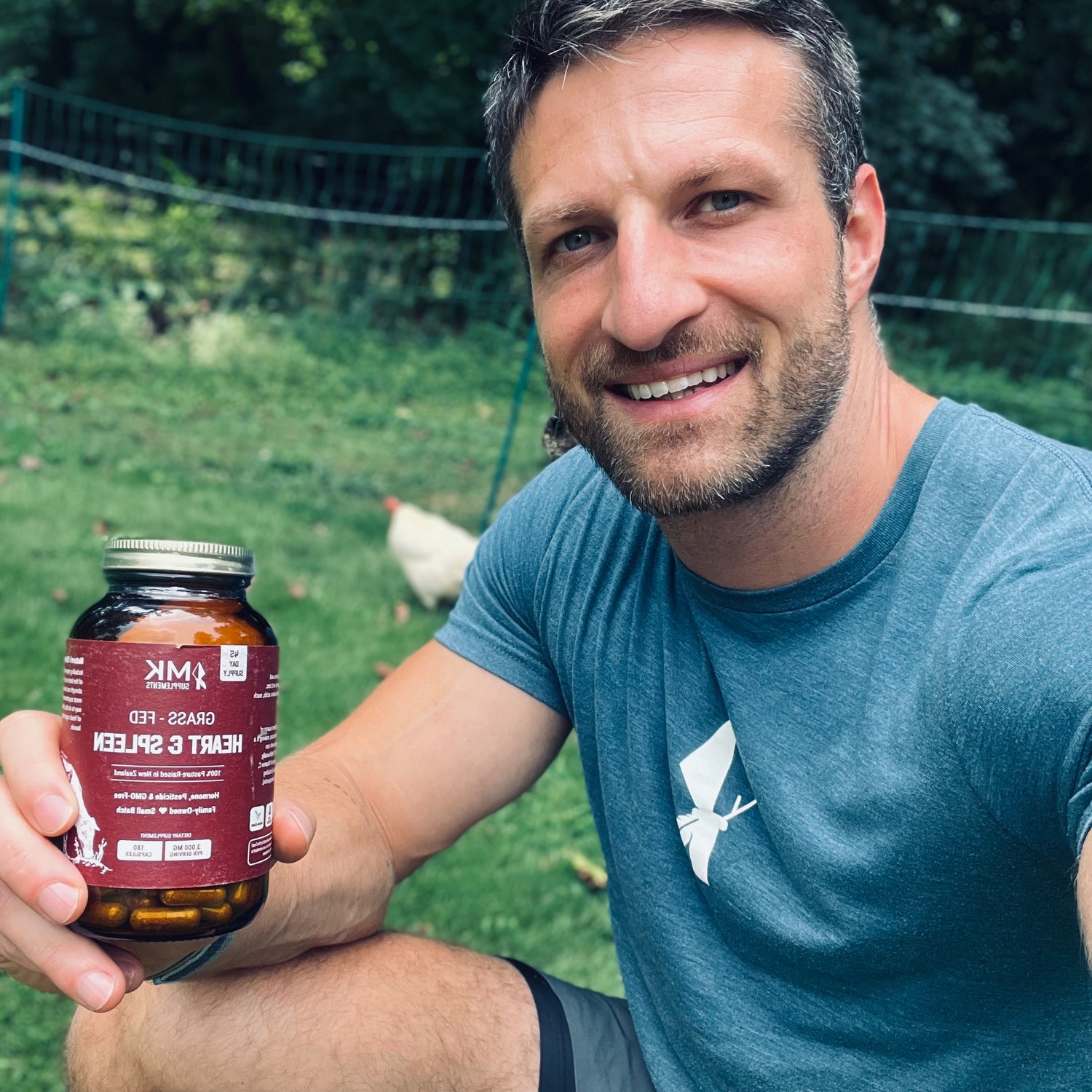 Meet Michael
MK Supplements was founded by Michael Kummer, a former professional track athlete turned CrossFitter. Michael is a healthy living enthusiast who helps people improve their health and well-being through his widely-read blog and popular YouTube channel. He lives with his wife Kathy and their two children on a small homestead in Georgia, where they maintain a flock of backyard chickens, a pair of beehives and a German shepherd named Rib Eye. To see what the Kummer tribe is currently up to, follow Michael on Instagram.
Buy Now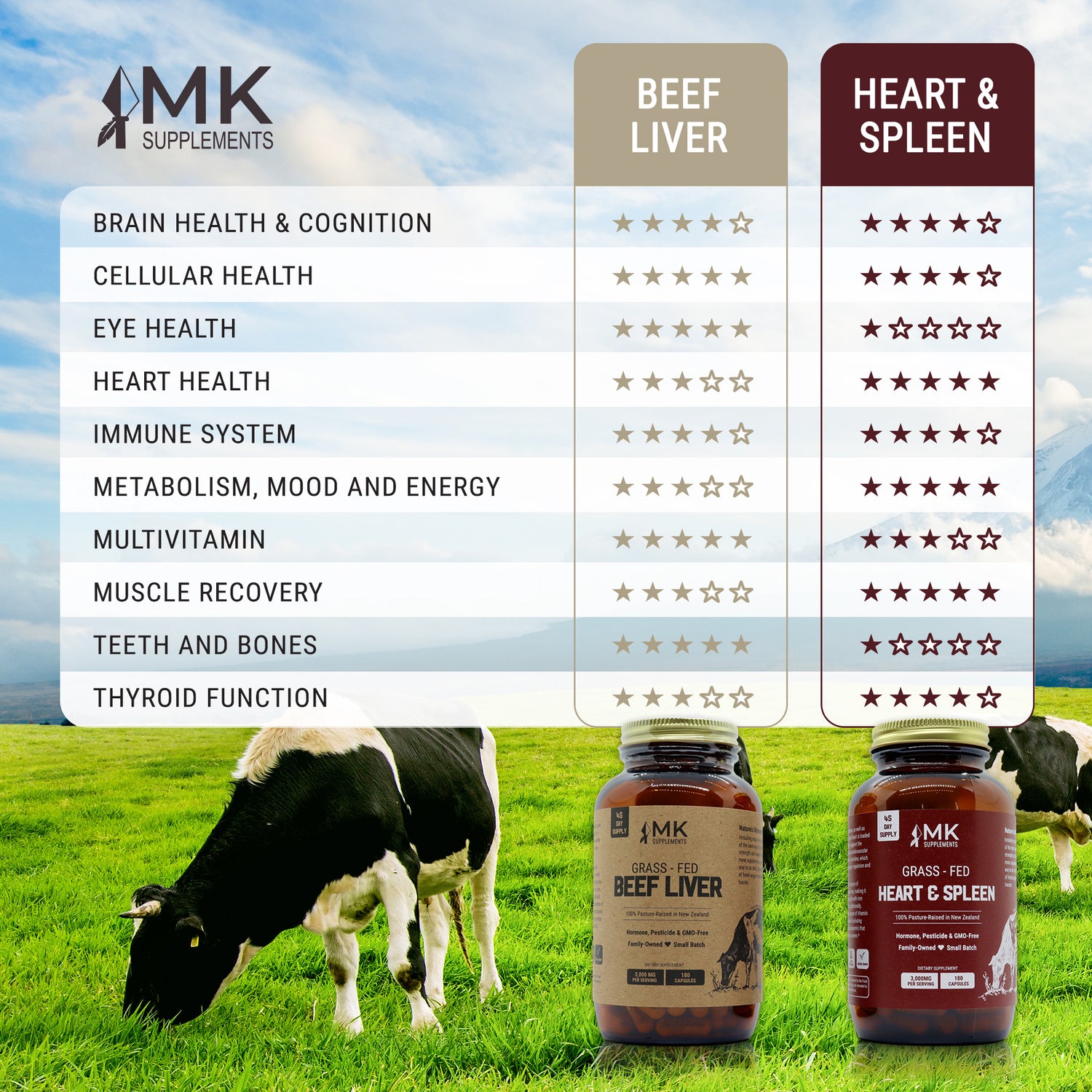 ❤️ Best Friends
Heart & Spleen is even more effective when used in combination with our Grass-Fed Beef Liver supplement.
Shop Beef Liver
International Shipping
We offer international shipping from our fulfillment centers in the United States and Europe to most countries in the world, including Australia and New Zealand. 
We ship orders to customers located within the European Union (EU) from our Austrian fulfillment center. As a result, our EU customers won't have to pay import duties or taxes.
You may also like
Regular price

$48.00 USD

Sale price

$46.50 USD

Unit price

per

Regular price

$55.00 USD

Sale price

$54.00 USD

Unit price

per

Regular price

$59.00 USD

Sale price

$54.00 USD

Unit price

per