Nature's Ultimate Multivitamin
3,000 mg / 45-Day Supply
Regular price
$48.00 USD
Sale price
$46.50 USD
Unit price
per
Sale
Sold out


Liver is one of the most nutrient-dense foods on the planet, and something our ancestors and early humans ate regularly for millions of years.

MK Supplements' Grass-Fed Beef Liver is from 100% pasture-raised New Zealand cattle. Unlike other manufacturers, we use a gentle freeze-drying method (instead of heat) to turn fresh liver into a powder before filling it into gelatin capsules.

Additionally, we don't use hexane or other harsh chemicals to defat our organ meats.

Instead, you get what we consider nature's ultimate multivitamin; a high-quality supplement that offers all the benefits of consuming fresh, grass-fed organ meat (without the strong taste).
View full details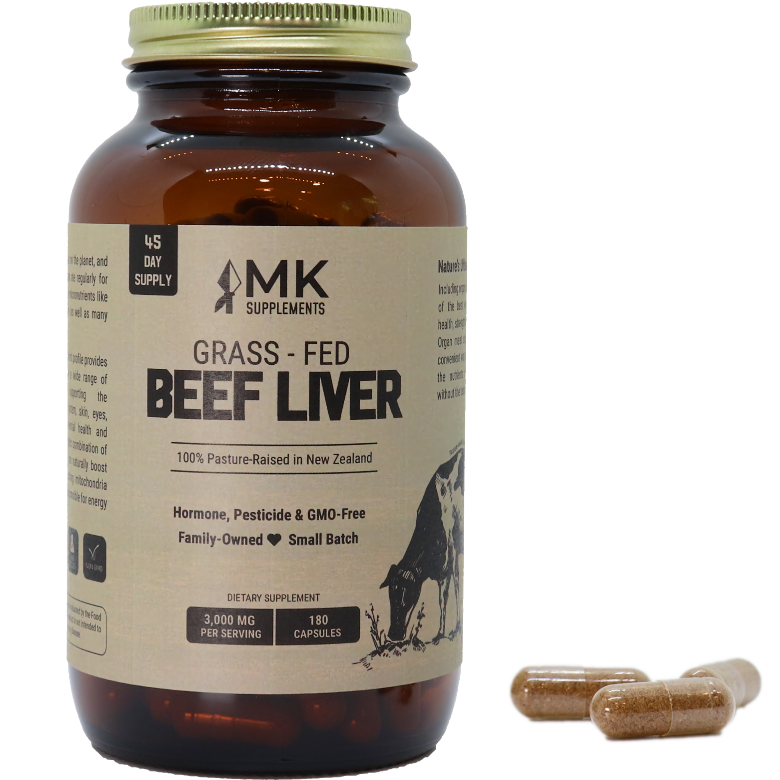 Liver is packed with bioavailable and highly-absorbable nutrients, enzymes and peptides that many Americans are deficient in, including choline, copper, folic acid, iron, potassium, selenium, preformed Vitamin A, Vitamin D, Vitamin B12 and zinc.
*This statement has not been evaluated by the Food and Drug Administration. This product is not intended to diagnose, treat, cure, or prevent any disease.
Liver is also one of the few dietary sources of bioavailable Vitamin K2 (not to be confused with K1, the much less bioavailable plant-based version) and hyaluronic acid. Getting sufficient amounts of Vitamin K2 is important for calcium absorption, especially if you take calcium supplements. 

Liver is also a rich source of coenzyme Q10 (CoQ10), an important antioxidant that can help improve mitochondrial function, promote healthy aging and longevity, and improve brain and heart health.
Combined, the nutrients found in liver are crucial for many of the body's metabolic processes, including brain function, proper digestion and stable energy levels.
Why Beef Liver
There is overwhelming scientific evidence that Americans get insufficient vitamins and minerals from their diet, due in large part to the fact that our society has replaced nutritious organ meats — something we ate for millions of years — with breakfast cereals, highly-processed junk food and synthetic multivitamins.
But even plants have fewer nutrients than in the past, thanks to deteriorating soil quality, monocrops and the overuse of fertilizers and other chemicals.
Buy Now
Desiccated organ meat supplements are the easiest way to add highly bioavailable micronutrients back into your diet. 
For example, beef liver is jam-packed with valuable micronutrients like preformed Vitamin A, Vitamin B12 and iron (as well as many others). With over 25 nature-identical vitamins, minerals and cofactors, it's nature's ultimate multivitamin. 
In comparison, synthetic multivitamins offer high amounts of mostly lab-grown nutrients that the body can't absorb and flushes out via urine. 
How to Use Beef Liver Capsules
Instructions

Take four capsules per day, or up to six capsules per day if you suffer from severe micronutrient deficiencies or have increased nutritional requirements (e.g., due to your active lifestyle). Children can take two capsules per day, depending on their weight. Consistent and long-term use produces the best results. Ask us if you need help determining the right dosage.

Benefits

Our Grass-Fed Beef Liver is a foundational supplement for any diet or health status (including paleo and keto dietary frameworks), helping to fill nutritional gaps and improve energy, mood, exercise performance, libido and more. Learn more in our guide to the health benefits of eating organ meat.

Dosage Matters!

Each serving of our Grass-Fed Beef Liver supplement contains 3 grams of freeze-dried liver. That's the equivalent of one ounce of fresh liver.

Ingredients

All of our supplements are made from 100% grass-fed and grass-finished cattle. They're free of additives, allergens, antibiotics, hormones, GMOs, fillers and pesticides. Our supplements are freeze-dried and non-defatted to provide pure nose-to-tail nourishment for you and your family.

More Information

To learn more about our Grass-Fed Beef Liver supplements, visit our help center!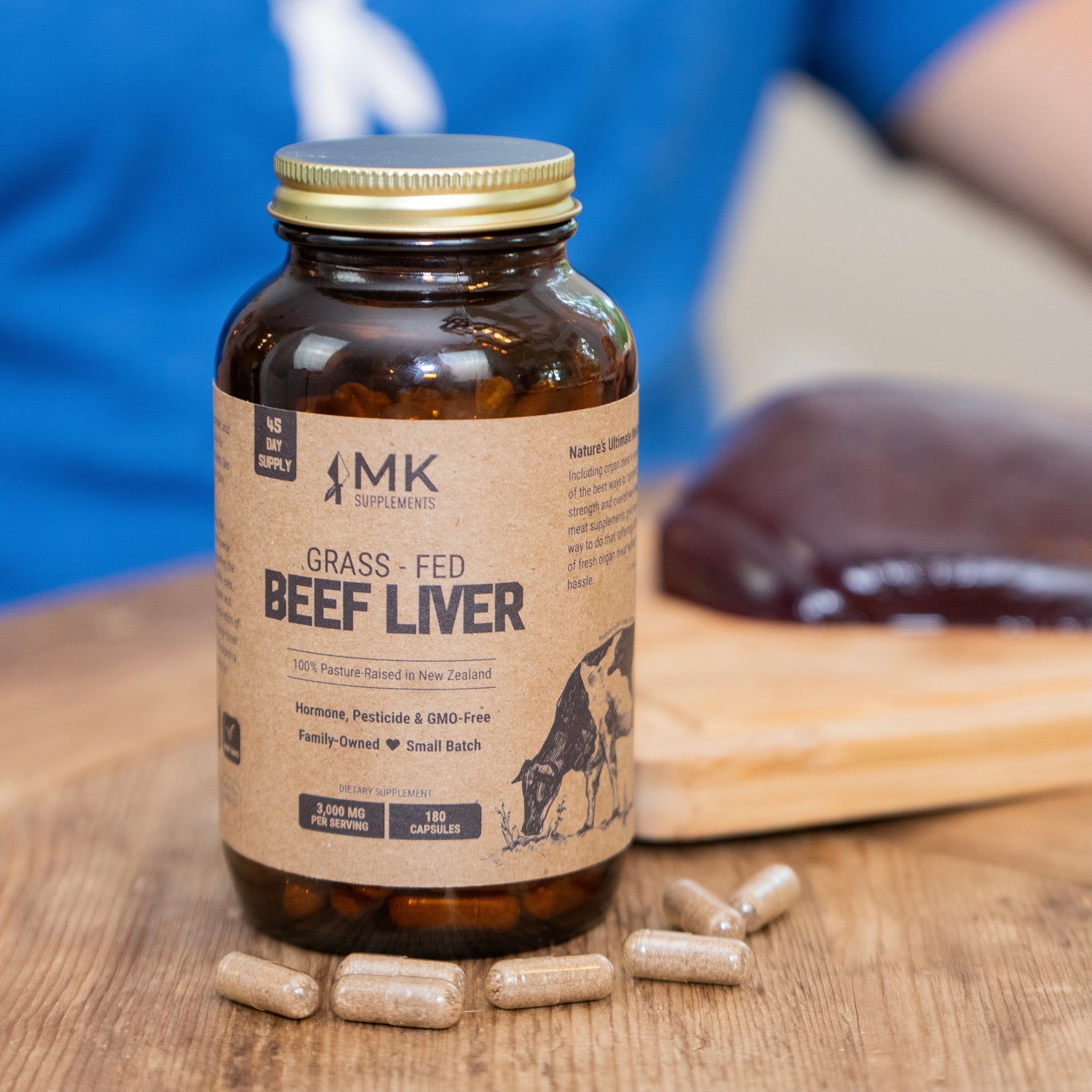 Nutrients in Beef Liver (Per Serving)
Jam-packed with valuable micronutrients like preformed Vitamin A, Vitamin B12 and iron (as well as many others), it's nature's ultimate multivitamin.

Liver's diverse micronutrient profile provides the building blocks for a wide range of bodily functions, supporting the metabolism, immune system, skin, eyes, reproductive organs, mental health and more. Plus, its synergistic combination of vitamins and minerals can naturally boost energy levels by supporting mitochondria (the part of every cell responsible for energy production).
Vitamins

Betaine (1.2 mg), Choline (93.3 mg), Vitamin A (4,732 IU), Vitamin B1 (0.1 mg), Vitamin B2 (0.8 mg), Vitamin B3 (3.7 mg), Vitamin B5 (2.0 mg), Vitamin B6 (0.3 mg), Vitamin B7 (10.3 mcg), Vitamin B9 (81.2 mcg), Vitamin B12 (16.6 mcg), Vitamin C (0.4 mg), Vitamin D (4.5 IU), Vitamin E (0.1 mg), Vitamin K (21 mcg)

Minerals

Calcium (1.4 mg), Copper (2.7 mg), Iron (1.4 mg), Magnesium (5.0 mg), Manganese (0.1 mg), Phosphorus (108 mg), Potassium (87.6 mg), Selenium (11.1 mcg), Sodium (19.3 mg), Zinc (1.1 mg)

Other

Coenzyme Q10 (1 mg), Hyaluronic Acid (25 mg)

Important Note

Many synthetic multivitamin supplements contain significantly higher concentrations of vitamins and minerals. That's because your body doesn't absorb most of those nutrients due to their poor bioavailability. However, the nutrients in freeze-dried organ meats are highly absorbable, so you don't need excessive amounts. Additionally, it's virtually impossible to overdose on nutrients from real-food sources. So don't worry about getting a little more Vitamin A or iron than your body may need.
The micronutrient contents listed above are based on data from the USDA and European Food Database for fresh beef liver. Freeze-drying results in a loss of 5% or less of nutrients, and the exact breakdown varies from lot to lot.
Benefits of Daily Use
Continuous use is crucial for obtaining the maximum benefits from this supplement. Sign up for a subscription to ensure you never run out of Grass-Fed Beef Liver!
Eye Health

The Vitamin A (retinol) and B vitamins in liver play a crucial role in vision, helping to maintain a clear cornea (which is the outside covering of your eye).

Skin Health

The hyaluronic acid, copper, zinc and selenium in liver are crucial for maintaining healthy skin and connective tissue.

Energy and Mood

Liver is an excellent source of Vitamin B12, copper, heme-iron, CoQ10 and niacin, all of which are crucial for energy, optimal exercise performance, metabolism and mood.

Brain Health and Cognition

The highly absorbable B vitamins (riboflavin, folate and B12), amino acids (anserine, carnosine, taurine and l-carnitine), choline and zinc in liver are vital for brain health and cognition as well as neurotransmitter formation.

Immune Health & Longevity

Selenium is a cofactor for the body's antioxidant defenses and (together with copper) supports optimal immune function. Specific peptides found in liver — including liver expressed antimicrobial peptide (LEAP-2), hepcidin and ergothioneine — support immune health, detoxification and longevity pathways.

Teeth and Bones

The Vitamin K2 in liver is crucial for bone and tooth health because it supports remineralization and absorption of calcium.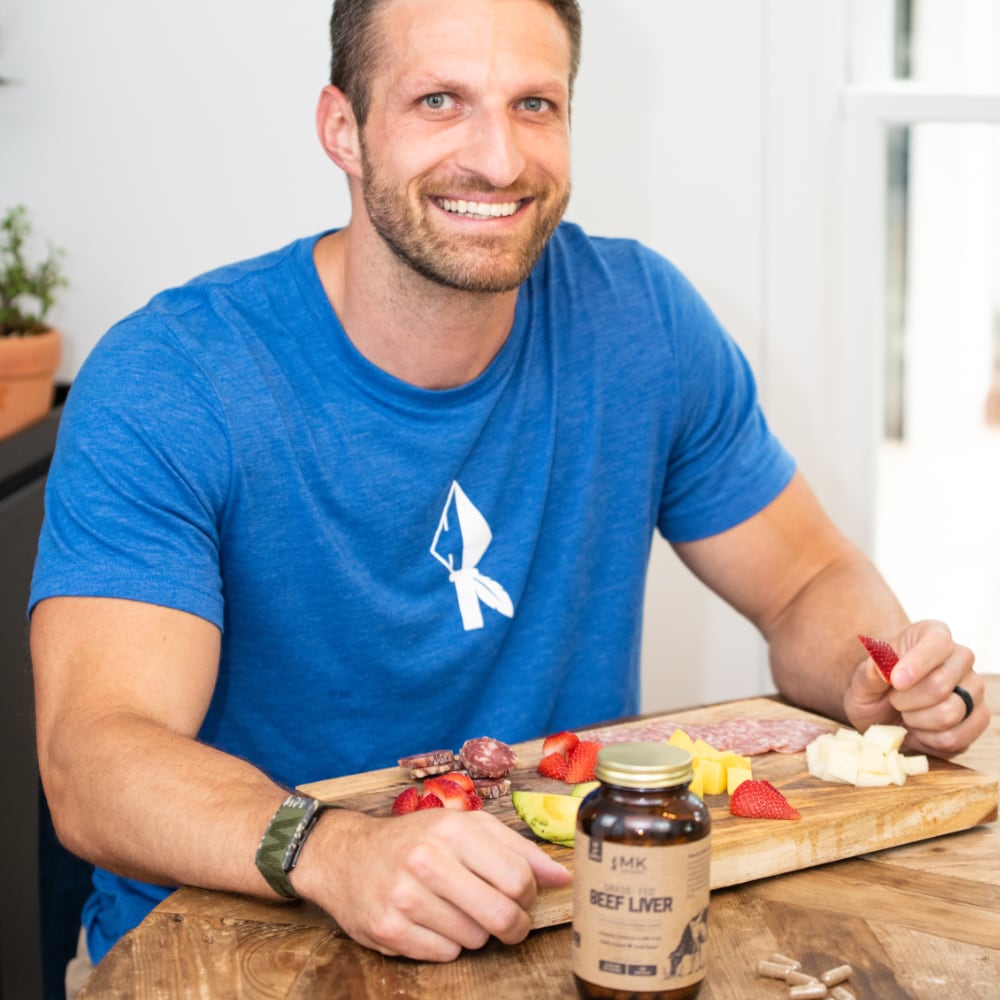 Meet Michael
MK Supplements was founded by Michael Kummer, a former professional track athlete turned CrossFitter. Michael is a healthy living enthusiast who helps people improve their health and well-being through his widely-read blog and popular YouTube channel. He lives with his wife Kathy and their two children on a small homestead in Georgia, where they maintain a flock of backyard chickens, a pair of beehives and a German shepherd named Rib Eye. To see what the Kummer tribe is currently up to, follow Michael on Instagram.
Buy Now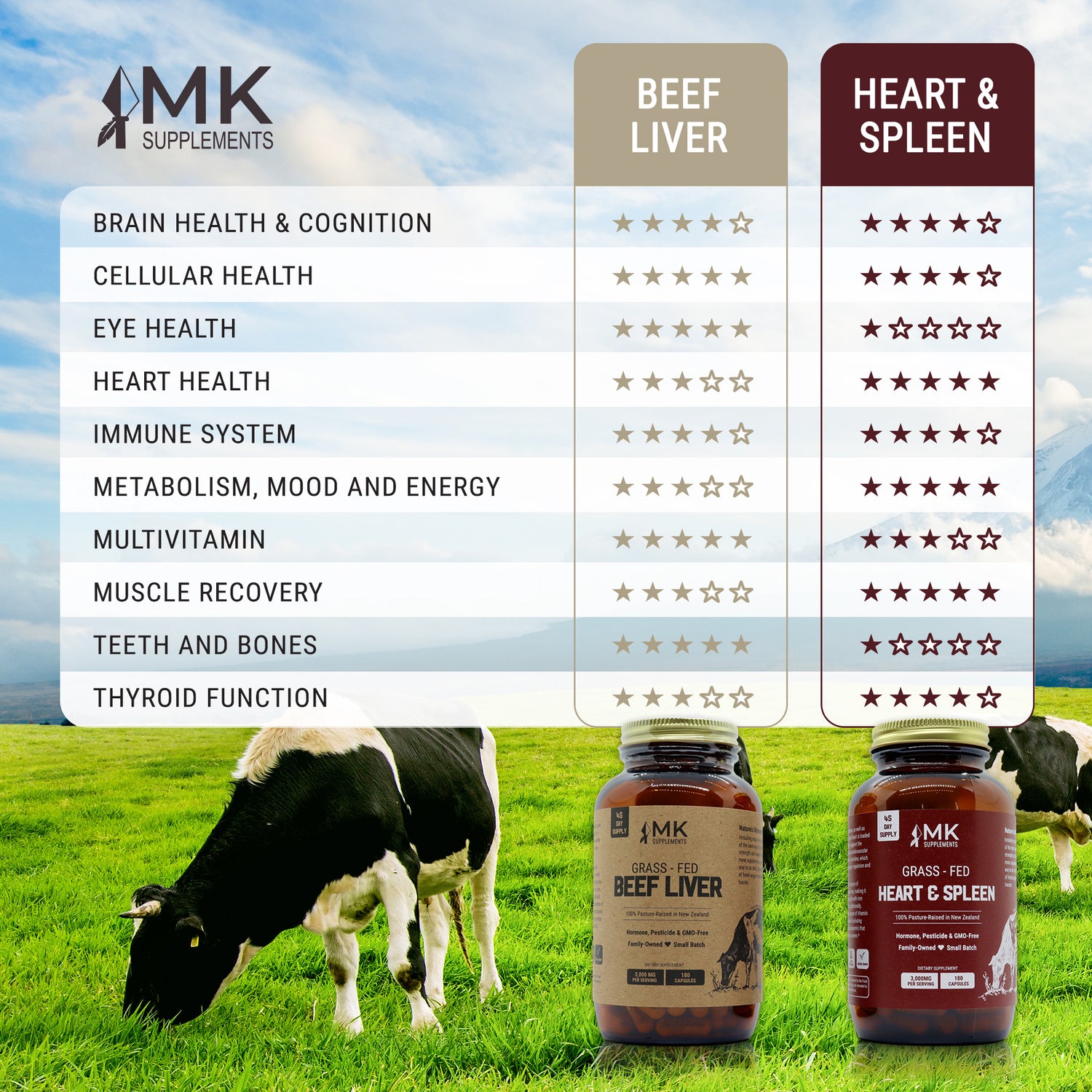 ❤️ Best Friends
Grass-Fed Beef Liver is even more effective when used in combination with our Heart & Spleen supplement.
Shop Heart & Spleen
International Shipping
We offer international shipping from our fulfillment centers in the United States and Europe to most countries in the world, including Australia and New Zealand.
We ship orders to customers located within the European Union (EU) from our Austrian fulfillment center. As a result, our EU customers don't have to pay import duties or taxes.
Find Us On Amazon
You can also find MK Supplements on Amazon. If you decide to purchase our supplements on Amazon, please make sure to leave us a review there as well.
You may also like
Regular price

$48.00 USD

Sale price

$46.50 USD

Unit price

per

Regular price

$55.00 USD

Sale price

$54.00 USD

Unit price

per

Regular price

$59.00 USD

Sale price

$54.00 USD

Unit price

per